On Friday, Verizon stock reached 52-week lows as a result of weak earnings. But the bulls may be approaching a low-risk long setup.
Verizon's stock has not experienced the same response to its earnings release as AT&T (T), which saw a brief Thursday increase of more than 10%.
The shares of Verizon (VZ) are, however, declining on Friday, down nearly 5% following a weak quarter.
Earnings missed forecasts of $1.29 per share and decreased 7% year over year to $1.32 per share. Revenue increased by 4% and just barely beat projections. Even the company's post-paid additions fell short of expectations.
Although the business reiterated its full-year earnings outlook, it wasn't quite as impressive as AT&T's earlier announcement of top- and bottom-line beats and boosted expectations.
Verizon stock is currently trading at 52-week lows as a result. This is true even if the dividend yield has increased to about 7.5%.
Of course, the recent positive earnings report from AT&T, which may make it more appealing to telecom investors despite paying a 6.5% dividend yield, doesn't help.
How to Buy Verizon Stock Safely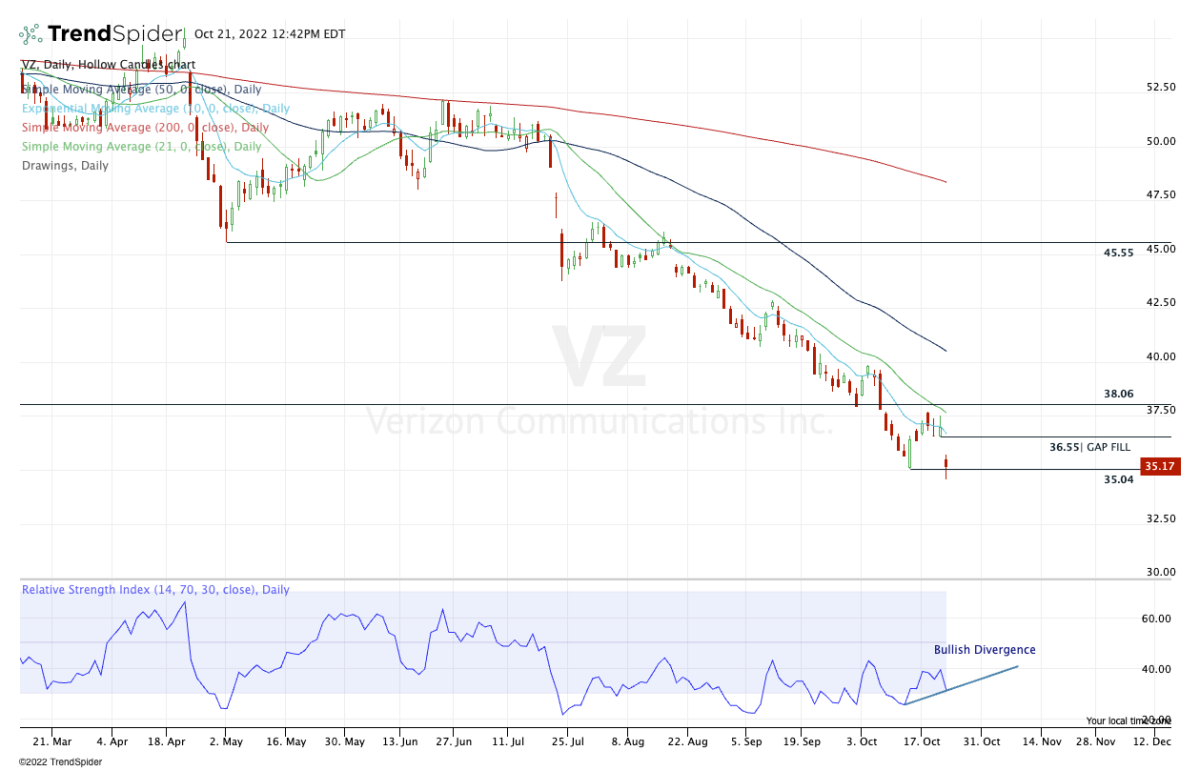 Despite hitting a one-year low, Verizon is showing some positive price action on the charts. That doesn't happen very often.
The price of Verizon stock fell to $34.55, then bounced back to $35.04, which was its previous 2022 low.
Consider this: The stock made a new low before reclaiming the previous low. That is referred to as a reversal, and if Verizon can close back above $35.04, optimistic traders may be long Verizon.
Most likely, they would set a stop-loss slightly below the recent low. They would also watch for a gap-fill at $36.55 and a test of the 10-day decreasing trend.
Above that, the 21-day and $38 come into play.
Of course, the stock of Verizon could fall more if it breaks and closes below $34.55.
I doubt Verizon would go this low, but it would pave the way for a decline to the low $30s, which is where the 78.6% retracement of the move from the 2019 high to the 2008 low is located.